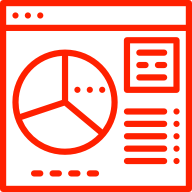 Rich and Customizable Reports
Rich dashboards, trend graphs and customized reports are provided.
SecFusion produces many different and rich graphical and textual reports from its security findings and business tracking processes. The reports contain images that can be easily transferred to your technical or administrative presentations, and it is possible to draw detailed reports in popular formats such as HTML, CSV, and PDF.
One of the most effective ways of communicating security findings is to report vulnerabilities in an understandable fashion. In this way, IT managers in particular can continuously monitor the security postures of their assets, moreover, they can make accurate decisions about where and how to spend their resources to address existing risks. In addition to the reports that administrators can access at any time using the SecFusion portal, they can also view these reports periodically in their e-mail boxes by scheduling them with the help of portal interface components and customizing their scope.
Dashboards are one of the most effective interfaces to monitor the security status of assets as a whole from a single point. SecFusion; in addition to the general technical weakness dashboard, also includes dashboards for different perspectives such as compliance and static source code analysis. In addition to these fixed panels, users can create a custom dashboards that will also contain the graphics of their interest. In addition to the built-in dashboards SecFusion serves, it also contains rich trend, top ten, list and infographic reports about assets, vulnerabilities, ports, scans, maturity models, business follow-up data.
Institutions often need reports with content specifically related to their institutions. SecFusion can easily use the pool of findings it hosts to generate report types in the style and content desired by the institutions and quickly allocate the necessary resources.
Discover other features
Information security professionals are in general out-numbered by the operational, development and business oriented employees. SecFusion provides key features to locate, track, measure, report and orchestrate all the vulnerabilities in your network.