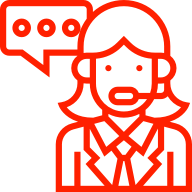 Fast and Reliable Support
Experienced teams provide fast and quality support for special needs.
Due to the different products that organizations have to use, the most important thing they need in a complex process such as vulnerability management is the support they get. SecFusion has been providing unmatched support to institutions for years with its fast and reliable assistance.
The special needs required in the installation and post-installation processes are fully developed and put into service with the help of SecFusion's experienced project and development teams.
Discover other features
Information security professionals are in general out-numbered by the operational, development and business oriented employees. SecFusion provides key features to locate, track, measure, report and orchestrate all the vulnerabilities in your network.