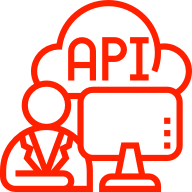 API Support
Rich API, SIEM integration is provided for data access.
One of the most important features of today's software is the rich API support they serve. With this way, it is facilitated to use the hosted data by different solutions for the organization without interrupting the automation processes. SecFusion comes with integrated middleware software that can be configured specifically for more effective use of information security records management (SIEM) tools. By using this software, SIEM solutions are informed of the weaknesses that enter the system at desired periods.
SecFusion provides security, rich API and documentation support, especially on data such as assets and vulnerabilities, to support fast access to solutions specific to the pool of findings it hosts. By using the back-end points served, the desired data can be programmatically extracted, processed and presented.
Discover other features
Information security professionals are in general out-numbered by the operational, development and business oriented employees. SecFusion provides key features to locate, track, measure, report and orchestrate all the vulnerabilities in your network.